25% on the first $2,000.00
20% on the excess of $2,000.00
50% on the accounts under $500.00
Returned Merchandise is 1/2 of the Normal Rate
ADDITIONAL INFORMATION:
NO COLLECTION - NO FEE!

ON CLAIMS SENT TO ATTORNEYS COURT COST & SUIT FEE ARE EXTRA

ACCOUNTS THAT ARE WITHDRAWN ARE SUBJECT TO A WITHDRAWAL FEE (1/2 of Normal Rate)

NO CHARGE ON MONEY REPORTED PAID DURING FREE DEMAND
How to Submit a Claim
There are a few ways to place an account for collection:
INFORMATION TO PROVIDE
DATE

CREDITOR: Name, Address & Phone (Please include contact name)

DEBTOR: Name, Address, Phone, Amount owed, oldest invoice date and any other pertinent information regarding pursuit of the account along with documents such as invoices, guarantees, credit applications, etc.

For a list of documents please see EXAMPLES OF DOCUMENTATION
The Potential Cost of Waiting
Sound credit practices are vital to all businesses. The deliquency of accounts receivable can cut sharply into your company's cash flow and profits. Profits are the ultimate picture of any company.
We firmly believe the data contained in the below graph, supplied to us by the Commercial Law League of America, could prove to be beneficial in the decision making process regarding placement of delinquent accounts for outsourcing or collections. The information was compiled by the members of the Commercial Collection Agency Section of the Commercial Law League of America.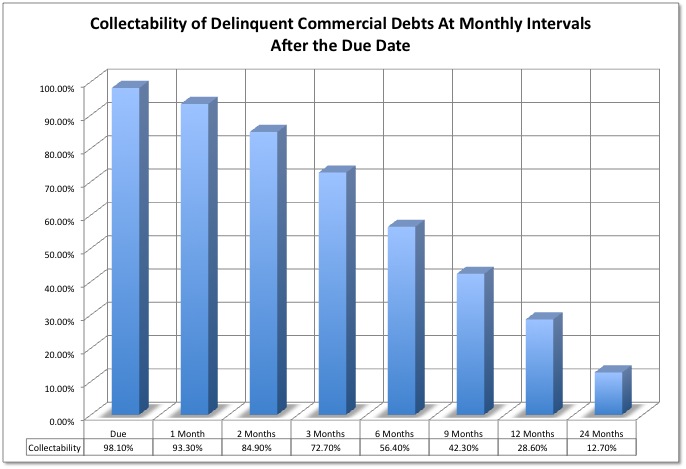 * For some industries, the due date may be several months after the delivery date

This graph supports our recommendation of placing accounts for collection as early as possible, resulting in a higher recovery rate of dollars as the primary benefit.